Your eyes aren't deceiving you: These are real-life levitating planters! And just like in the classic magic trick, while they're hovering in midair, you can quickly sweep your finger between the planter and platform—or even give them a gentle spin.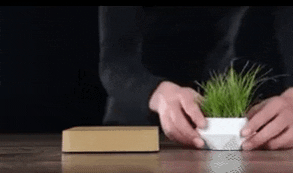 Levitating Plant Pot is a zero-gravity growing system that helps you to cultivate your favorite plants in mid-air. It consists of a planter that hovers over an Oak base via magnetic levitation. Designed to gently rotate during suspension.
 At Reezbotic, we select the finest raw materials to manufacture our products. However, even the highest quality materials may depreciate if not properly taken care. To maintain the look of your Reezbotic products throughout the years follow the recommendations below:
Click on the photo to see the instructions:
If you have any questions or concerns, please contact us via live chat, phone, or Email. We are here 24/7 to help you out. We take great pride in being the best of the best in customer service.
✈SHIPPING
Most of our products are high in demand. Please allow 3-4 business days for processing the order. Once your order has been shipped, a shipping confirmation email will be sent to you. Tracking information is sent shortly after the shipping confirmation email. You will be provided with a tracking link allowing you to track the status of your order.
Your Reezbotic Designs product will be shipped from the nearest warehouse to you. You can see our warehouses from our Shipping Policy page.
RETURNS
We offer 30 day return window if you are not satisfied with our product. For more details, please check our Return Policy page.